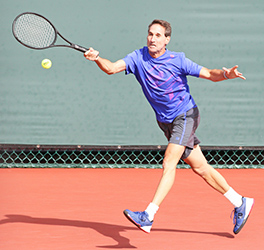 01 Apr

National Senior Hard Court Championship Tennis Tournaments – May 13 – 19

The La Jolla Beach & Tennis Club, one of California's most treasured beachfront resorts for over 80 years, will host the United States Tennis Association's (USTA) National Women's Senior Hard Court Tennis Championships, Monday, May 13, through Sunday, May 19. The best players from all over the country, ages 50 to 90+ will compete for gold balls, which are awarded to national champions, making for an amazing week of tennis for players and spectators alike.  Events in this tournament will include singles and doubles in the 50, 60, 70, 80 and 90 and over age divisions.

The La Jolla Beach & Tennis Club's 47th Annual Men's Senior Championships will also take place that week in conjunction with the women's events, and will include both singles and doubles for 60, 65, 70, 75, 80, and 85 and over age groups. Although the men's events are not national championships, they will feature many senior players who regularly compete in national tournaments. Total participation for both the men's and women's tournaments is expected to be 300-plus players.

Draws will be posted onsite and on the internet beginning Tuesday, May 14nd.  Online draws can most easily be found by visiting the Beach Club's website, LJBTC.com. Matches are expected to start Monday at 9 a.m., Tuesday through Friday at 8 a.m., and on Saturday and Sunday at 9 a.m.

The tournaments are FREE and open to the public. Event attendees and spectators are also invited to dine at the Club's Snack Bar and Club Dining restaurant during the tournament.